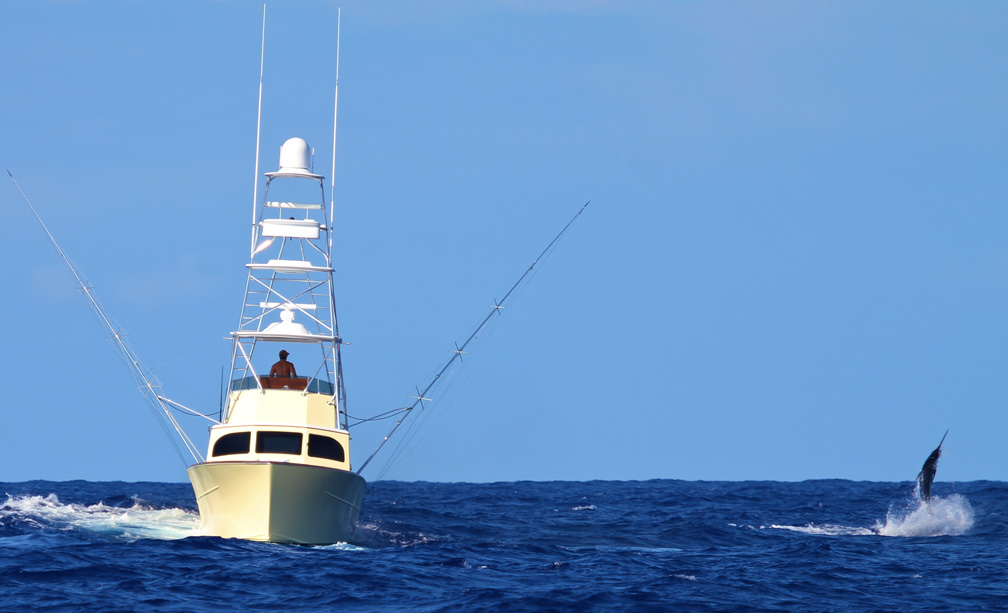 Rates*
Full Day $1,000 Year Round
Half Day $ 600 Year Round10% discount for multiple day charters is offered for 3 or more days booked in advance. *Gratuity is not included.
For tournament day rate, call (808) 896‑3111
Getting Here (To the Island and To The Marina)
Strong Persuader is located in Kona, Hawaii, also known as "The Big Island."
The nearest airport is Keahole Kona Airport (airport code: KOA) which is just 3 miles from the Marina. There are daily direct flights from the mainland USA on United, American, Alaska Air, and US Airways.
From Honolulu there are hourly flights on Hawaiian Airlines from 6 am – 8 pm. From Maui or Kauai you must connect thru Oahu.
When traveling from the Airport, head south (right) and look for the third stop light on the highway; the Honokohau Marina sign will be on your right.
Turn right at the traffic light toward the ocean. When you enter the Marina on Kealakehe Pkwy, travel about 1/2 mile until you approach the Harbor basin and stay left.
The Strong Persuader sign is next to the boat on the south side of the Honokohau Marina, in Slip Number H7.
Bathrooms are located in the small buildings next to the parking areas. Do not leave valuables in your cars, or leave cars unlocked.